How To Ship Thru Facebook Marketplace
Introduction
How To Ship Thru Facebook Marketplace: Shipping through Facebook Marketplace can be a game-changer for your online selling endeavors. Whether you're a seasoned seller or just starting out, this platform offers a convenient and efficient way to reach potential buyers and streamline the shipping process. In this comprehensive guide, we will walk you through the steps and strategies to successfully ship your items through Facebook Marketplace. We'll cover everything from listing your products, choosing shipping options, and ensuring a smooth delivery experience for both you and your customers.
First, we'll explore how to create compelling listings that catch the eye of potential buyers. You'll discover tips and tricks for showcasing your products effectively, setting competitive prices, and writing engaging descriptions. Next, we'll delve into the various shipping options available on Facebook Marketplace, including local pickup, local delivery, and nationwide shipping. We'll guide you on how to set shipping preferences and calculate shipping costs to maximize your profitability.
We'll provide insights into managing orders, tracking shipments, and addressing customer inquiries to maintain a positive reputation as a seller. Whether you're selling handmade crafts, vintage treasures, or brand-new merchandise, this guide will equip you with the knowledge and tools to ship with confidence on Facebook Marketplace. So, let's get started and unlock the full potential of this dynamic online marketplace.
How do I receive payment from Facebook Marketplace?
To receive payments from sales for your orders sold with shipping, you'll need to link your PayPal or bank account. To receive payments from Facebook (example: chargebacks, payments from buyer coupons, reimbursements from appeals), you can only link your bank account.
Receiving payment on Facebook Marketplace is a straightforward process, and it offers various options to suit your preferences and those of your buyers. here's how you can receive payments:
In-Person Payment: For local transactions or local pickup, you can choose to accept cash from the buyer upon meeting. However, always exercise caution and meet in safe, public places.
Online Payment through Facebook: Facebook Marketplace offers a secure way to receive payments directly through the platform. To enable this option, follow these steps:
a. Link Your Bank Account: Connect your bank account to your Facebook account. You can do this by going to your Facebook settings and adding your bank account information.
b. Create a Payment Account: If you haven't already, you may need to create a Facebook Payment account. This will allow you to receive funds from buyers.
c. List Your Item: When creating a listing, select the "Checkout on Facebook" or "Facebook Pay" option as your preferred payment method.
d. Receive Funds: Once a buyer purchases your item and completes the transaction, the funds will be deposited into your linked bank account. Facebook will notify you of the payment.
PayPal or Other Payment Services: Some buyers may prefer to use external payment services like PayPal or Venmo. You can communicate with the buyer to arrange payment through these methods if both parties are comfortable with it.
Cash App or Similar Apps: Some sellers and buyers also use payment apps like Cash App or Zelle for transactions. Ensure you're familiar with the app and follow safety precautions.
Shipping Fees: If you're offering nationwide shipping, you can also include shipping fees in the listing price, allowing the buyer to pay for both the item and shipping in a single transaction.
Payment options and features on Facebook Marketplace may have evolved since my last update. Always check the latest information and policies on Facebook Marketplace to ensure you're using the most current and secure payment methods. Additionally, prioritize safety when meeting buyers for in-person transactions and consider following best practices for online payments.
Who pays for shipping on Facebook Marketplace?
Depending on how you've set up your listing, shipping will either be paid for by the buyer, Facebook, or you as the seller. If you've selected to pay the shipping costs, the costs will be deducted from your payout.
On Facebook Marketplace, whether the buyer or the seller pays for shipping depends on the agreement between the two parties and the terms set in the listing. Here's a breakdown of how shipping costs are typically handled:
Buyer Pays for Shipping: In many cases, the buyer is responsible for covering the shipping costs. When creating a listing, sellers can specify that shipping costs will be the buyer's responsibility. The buyer is then informed of the shipping cost at the time of purchase and can choose their preferred shipping method.
Seller Covers Shipping: Alternatively, sellers may choose to offer free shipping as an incentive to attract buyers. This means the seller covers the cost of shipping the item to the buyer. In this case, the listing price often includes the cost of shipping, and buyers do not have to pay any additional shipping fees.
Local Pickup or Delivery: If the transaction involves local pickup or delivery, there may be no shipping costs involved. The buyer and seller agree to meet in person to exchange the item and payment, typically in cash. In this scenario, neither party incurs shipping fees.
Both buyers and sellers to carefully read the listing description to understand how shipping costs are handled for a specific item. Additionally, communication between the parties is key to ensuring a smooth transaction and clarifying any questions or concerns about shipping arrangements. Keep in mind that Facebook Marketplace's features and policies can change, so always refer to the most up-to-date information on the platform for any adjustments regarding shipping.
Is shipping on FB Marketplace safe?
The seller ships the item directly to the buyer. You can pay and be paid securely with checkout on Marketplace. Eligible purchases are covered by Purchase Protection.
Shipping on Facebook Marketplace can be safe, but it also comes with some potential risks that both buyers and sellers should be aware of and take precautions against. Here are some factors to consider to ensure a safe shipping experience:
Safety for Buyers:
Seller Verification: Verify the credibility of the seller. Check their profile, reviews, and any available information to ensure they are reputable.
Payment Security: Use secure payment methods offered by Facebook Marketplace, such as Facebook Pay, to protect your financial information.
Communication: Maintain clear and open communication with the seller. Ask questions, confirm shipping details, and request tracking information when available.
Shipping Insurance: Consider purchasing shipping insurance, especially for valuable items, to protect against loss or damage during transit.
Report Suspicious Activity: If something seems off or suspicious during the transaction, report it to Facebook Marketplace immediately.
Safety for Sellers:
Buyer Verification: Verify the buyer's profile and communication to ensure they are legitimate. Be cautious of buyers who exhibit unusual behavior.
Payment Security: Use secure payment methods and confirm that payment has been made before shipping the item.
Tracking and Documentation: Keep records of the transaction, including messages, receipts, and shipping documentation. This can be useful in case of disputes.
Secure Packaging: Pack items securely to prevent damage during transit, reducing the risk of disputes and returns.
Use Shipping Labels: When available, use Facebook Marketplace's integrated shipping label feature to ensure accurate shipping details.
Meet Safely: If arranging local pickup, choose a safe, public location for the exchange and consider bringing a friend or meeting during daylight hours.
While Facebook Marketplace provides tools and features to enhance security, it's essential for both buyers and sellers to exercise vigilance, communicate clearly, and follow best practices to minimize potential risks associated with shipping transactions.
What is the cheapest way to ship a package?
USPS Priority Mail is generally the cheapest option for 2-3 day shipping. FedEx, UPS, and other courier companies offer delivery services with similar lead time expectations, but USPS offers the lowest rates.
The cheapest way to ship a package depends on several factors, including the package's size, weight, destination, and delivery time frame. Here are some cost-effective shipping options to consider:
USPS (United States Postal Service): USPS offers various affordable options, including First-Class Mail for lightweight packages, Priority Mail for faster delivery at a reasonable price, and Media Mail for shipping books, DVDs, and other media items at a low rate. Flat Rate boxes can also provide cost savings for certain items.
Parcel Select Ground: USPS Parcel Select Ground is an economical option for larger and heavier packages, with delivery times typically ranging from 2 to 9 business days.
FedEx SmartPost: This service combines FedEx's long-haul shipping network with USPS delivery for the "last mile." It can be cost-effective for lightweight packages.
UPS Ground: UPS Ground is an economical choice for larger and heavier packages, especially for businesses that frequently ship. Rates are based on package size and weight.
Regional Carriers: Depending on your location, regional carriers like OnTrac or Spee-Dee Delivery may offer competitive rates for local and regional shipments.
Online Shipping Platforms: Online shipping platforms like Shippo, Pirate Ship, and ShipStation often provide discounted rates from various carriers, making it easy to find cost-effective options.
Flat Rate Shipping Boxes: Consider using flat-rate boxes offered by USPS, FedEx, or UPS. These boxes allow you to ship items of a certain weight and size for a fixed price, which can be cost-effective for heavy items.
Drop-Off Locations: Dropping off your packages at carrier drop-off locations or using their self-service kiosks can sometimes result in lower rates compared to scheduling a pickup.
Compare Rates: Always compare shipping rates from multiple carriers to find the most cost-effective option for your specific package and delivery needs.
Shipping costs can vary significantly based on distance, package dimensions, and weight, so it's essential to calculate rates for each shipment individually and consider delivery times when choosing the cheapest shipping option.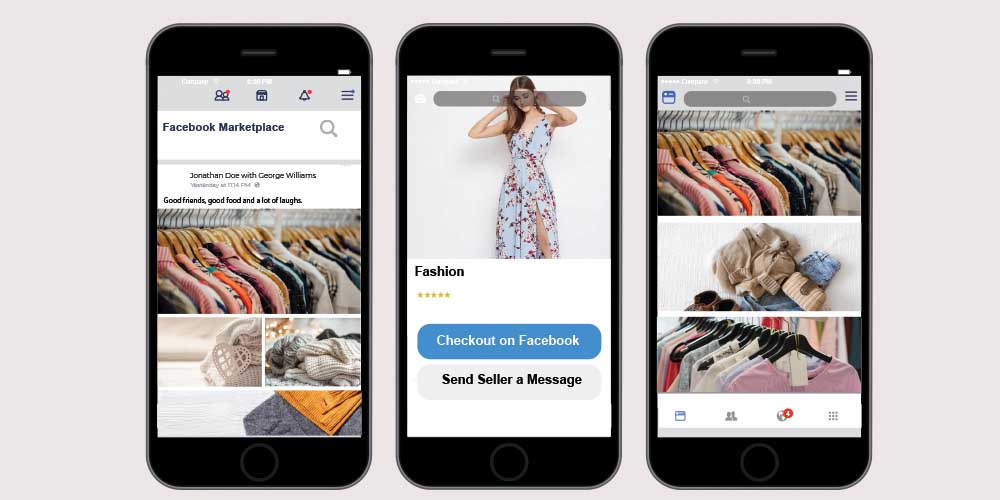 What are the basic steps to ship an item through Facebook Marketplace?
Shipping an item through Facebook Marketplace involves several steps:
Create a Listing: Start by creating a listing for the item you want to sell. Include clear photos, a detailed description, and the selling price.
Set Shipping Preferences: In your listing, select the "Shipping" option. You'll be prompted to enter shipping details such as package dimensions, weight, and your preferred shipping carrier.
Calculate Shipping Costs: Facebook Marketplace can help you calculate shipping costs based on the package details and the buyer's location. Make sure to specify any handling fees if applicable.
Choose a Shipping Option: You can offer different shipping options such as local pickup, local delivery, or nationwide shipping. Select the option that best suits your preferences and the buyer's needs.
Communicate with the Buyer: If a buyer is interested in your item and chooses the shipping option, communicate with them through Facebook Messenger to confirm shipping details, provide a tracking number, and address any questions they may have.
Package the Item: Carefully pack the item to ensure it arrives in good condition. Use appropriate packaging materials and follow any guidelines provided by your chosen shipping carrier.
Print Shipping Labels: If you're shipping through a major carrier, you can often print shipping labels directly from Facebook Marketplace. Attach the label to the package.
Drop off or Schedule Pickup: Take the packaged item to your chosen shipping carrier's drop-off location or schedule a pickup if available.
Update the Buyer: Once the item has been shipped, update the buyer with the tracking information so they can monitor the shipment's progress.
Follow Up: After the item is delivered, follow up with the buyer to ensure they received it in good condition and are satisfied with the purchase.
That providing excellent customer service and maintaining clear communication with the buyer is essential for a successful shipping experience on Facebook Marketplace.
How do I set up shipping preferences on my Facebook Marketplace seller account?
You can set up your shipping preferences on your Facebook Marketplace seller account by following these steps:
Open Facebook Marketplace: Log in to your Facebook account and navigate to the Facebook Marketplace section. Click on the "Marketplace" icon or go to the "Buy and Sell Groups" section.
Access Your Seller Profile: Click on your profile picture or name in the top right corner to access your seller profile.
Navigate to Shipping Settings: In your seller profile, you should see a section for "Shipping settings" or "Shipping and delivery." Click on this section to access your shipping preferences.
Choose Your Shipping Options: Facebook Marketplace typically offers three main shipping options: Local pickup, Local delivery, and Shipping. Select the shipping option(s) you want to offer to your customers.
Set Shipping Rates: If you choose to offer shipping, you'll need to set your shipping rates. This might include flat rates, calculated rates based on package size and weight, or free shipping for specific items.
Specify Handling Time: Specify how quickly you can ship items after receiving an order. This is known as your handling time.
Shipping Carrier Integration: Depending on your location and the availability of features, you may have the option to integrate with a specific shipping carrier (e.g., USPS, FedEx) to streamline the shipping process and generate labels.
Save Your Shipping Preferences: After configuring your shipping settings, be sure to save your preferences.
Listing Items with Shipping: When you create a new listing for an item, you'll be prompted to choose your shipping preferences for that specific listing.
Facebook Marketplace's features and settings can change over time. For the most up-to-date information on setting up shipping preferences on Facebook Marketplace, Facebook's Help Center or accessing the seller settings within Facebook Marketplace for any changes or additional features introduced after.
What are the key considerations when choosing between local pickup and nationwide shipping?
When deciding between local pickup and nationwide shipping on Facebook Marketplace, several key considerations should guide your choice:
Item Size and Weight: Consider the size and weight of the item you're selling. Larger, heavier items may not be practical for local pickup, especially if the buyer lives far away. In such cases, nationwide shipping might be the better option.
Buyer's Location: Take into account the location of your potential buyers. If most of your potential buyers are in your local area or within a reasonable driving distance, offering local pickup can be convenient for both you and the buyer.
Shipping Costs: Evaluate the cost of shipping your item nationwide versus offering local pickup. If shipping costs are high, it might deter potential buyers. On the other hand, if local pickup is not feasible due to distance or logistics, offering nationwide shipping could expand your customer base.
Packaging: Consider whether you have the appropriate packaging materials and methods to safely ship the item. Fragile or delicate items may require special packaging for shipping, which could impact your decision.
Time and Convenience: Think about your availability and convenience. Local pickup might be more convenient if you have a flexible schedule and the buyer can pick up the item quickly. Nationwide shipping requires coordination with shipping carriers and adherence to their schedules.
Market Demand: Research the demand for your item and assess whether potential buyers are willing to travel for local pickup or if they prefer the convenience of having the item shipped to their doorstep.
Security and Trust: Consider the level of trust and security you have in local transactions versus shipping. Local pickup allows for in-person exchanges, which some sellers may prefer for higher-value items. Shipping involves more reliance on shipping carriers and tracking.
Customer Preferences: Ultimately, it's essential to take into account the preferences of your target audience. Some buyers may prefer local pickup for the immediacy, while others may prefer the convenience of nationwide shipping.
Return Policy: Decide on your return policy. If you offer nationwide shipping, you may need to establish clear return procedures, which can be more complex than local returns.
Legal and Tax Considerations: Be aware of any legal or tax implications associated with your choice. Different regions may have specific regulations regarding sales tax, shipping, and local pickup.
The choice between local pickup and nationwide shipping should be based on a combination of factors, including the nature of your items, buyer demographics, shipping costs, and your own logistical capabilities. It's often a good idea to offer both options when feasible, providing flexibility for your potential buyers.
Can you provide tips for ensuring secure and efficient shipping on Facebook Marketplace?
Ensuring secure and efficient shipping on Facebook Marketplace is essential for a positive seller and buyer experience. Here are some tips to help you achieve this:
Use Secure Packaging: Invest in sturdy and appropriate packaging materials to protect your items during transit. Use bubble wrap, packing peanuts, and sturdy boxes as needed, especially for fragile items.
Accurate Descriptions: Provide accurate and detailed item descriptions in your listings. This helps manage buyer expectations and reduces the likelihood of disputes.
High-Quality Photos: Include clear, high-quality photos of your items from multiple angles. This gives buyers a better idea of the item's condition and can lead to more confident purchases.
Prompt Communication: Respond to buyer inquiries and messages promptly. Good communication can build trust and encourage repeat business.
Shipping Insurance: Consider purchasing shipping insurance, especially for valuable or fragile items. This can protect you and the buyer in case of loss or damage during shipping.
Tracking and Confirmation: Always provide a tracking number to the buyer once the item has shipped. This allows them to monitor the shipment's progress and gives both parties peace of mind.
Shipping Labels: If available, use Facebook Marketplace's integrated shipping label feature. It simplifies the shipping process and ensures accuracy in address details.
Set Realistic Handling Times: Be honest about your handling times. If you need a few days to prepare an item for shipment, communicate this clearly in your listings.
Secure Payment: Use secure payment methods. For in-person transactions or local pickup, cash is common. For shipped items, consider online payment options like PayPal, which offer buyer and seller protection.
By following these tips, you can create a secure and efficient shipping process on Facebook Marketplace, which will enhance your reputation as a seller and lead to more successful transactions.
Conclusion
Shipping through Facebook Marketplace can significantly expand your online selling opportunities while providing convenience for both you and your customers. By following the steps outlined in this guide and considering the key factors involved in shipping, you can establish a secure and efficient shipping process.
Accurate item descriptions, high-quality photos, and clear communication with buyers to build trust and facilitate smooth transactions. Whether you choose local pickup or nationwide shipping, tailor your approach to the preferences of your target audience and the nature of your items.
Prioritize the safety and security of your shipments by using appropriate packaging materials, providing tracking information, and considering shipping insurance for valuable items. By staying informed about Facebook Marketplace policies and continually optimizing your selling practices, you can create a positive buying and selling experience for all parties involved, ultimately leading to a thriving online marketplace presence and satisfied customers.